All Sites - Health Summary
After a successful login, All Sites- Health Summary page appears which an entry point of the portal.
A link to our latest portal(Apptrana) is displayed.
Click here link to get redirected to Apptrana login page. Apptrana Login page appears.

Click to enter login credentials like Username, Password and click Log In button.
Use your existing TAS Login credentials to login to Apptrana portal.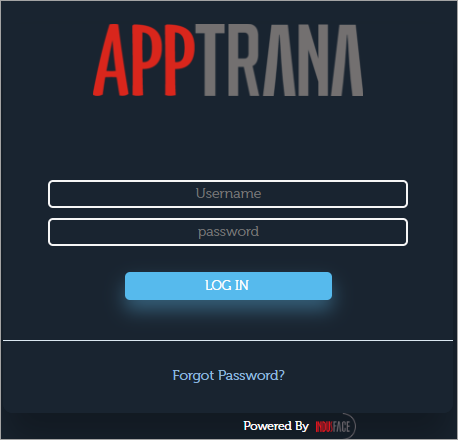 A message is displayed if any of your websites are on old version of our 
Core Rule Set
. Please Contact
Support
.
Core Rule Set related actions in the Settings page like Blacklisting, Whitelisting, WAF Status update etc., cannot be done as data manipulation like Insertion and Deletion is disabled.
An error message is displayed as Feature Disabled.
My Websites
All the Websites registered by the user are displayed in this column.
Click any specific website to view Summary of the website's attacks and various attack status containing Attack Counts, Blocked Attacks etc.

Configuration Status
The Configuration details of a website
Click Routing Configuration Required link to perform configuration so that the website can get full-time protection.

Without configuring, Indusface protection like Detect vulnerabilities, Measures to protect and assist from managed security service.
A routing Change pop-up window will appear. Follow the  Routing Change steps to route the traffic.
Refresh All Sites- Health Summary page to validate if the routing change was successful or not.

If it is successful, Configuration Status turns green.

Waf Status
Waf Status of a website is displayed in Configuration status i.e., when it is not on Log and Block mode.
From the example, click WafStatus Bypassed link which redirects to Settings page.
Select a Waf status and click Update button.
ByPass option in WAF Status is only availed for SaaS websites.
Last Scan
Click Scan now to initiate a scan on your domain to detect the Web Application Vulnerabilities, Malware, and Business Logic Flaws.
For the first-time user, if a website contains authentication, you need to click Email Support if you want to perform the unauthenticated scan.
Click Continue if the website is unauthenticated, a Scan Request pop-up displays Scan has been initiated.
Once the scan is completed, the Last Scan displays the date and time of the scan in All Sites - Health Summary page.

License Expiry
It displays the date when a license is going to expire.

If the license is expired, Renew Now message will be shown below the expiry date.
Click Renew Now link to upgrade your license. Profile and Licensing Info page appears.
Click here for more information on renew license.

An alert of Email notifications is sent when a website's license is about to expire.
Status
Status column indicates the health status of the website.
Gray                       –            Indicates that assessment is pending (Initiate Scan)

Green                    –            Indicates that the website is healthy.

Red                        –             Indicates that there are high or critical vulnerabilities without protection.

Yellow                  –             Indicates that there are only medium vulnerabilities without protection.

Add Website
Pre-requite: 
License
needs to be procured before adding more websites.
In All Sites - Health Summary page, click Add Website button.
Click here
to go through the step by step instructions to
Add Website
.
---
---